20 Apr

How To Pack Beauty Products for Travel
If you're anything like us here at Wander Wonder then you probably have an entire shelf of just skincare products, not to mention your makeup drawer…
So, when it comes to packing beauty products for a holiday or a backpacking trip, how are you to choose what skincare and makeup come and what products stay on the shelf?
That's where this guide comes in handy! We've put together the ultimate guide on how to pack minimalistically without abandoning your beauty and skincare routine on the road.
Let's Unpack This For A Second (literally)
Taking care of your skin is essential everyday of the year and when you're traveling there is no exception. Whilst travelling, your skin is exposed to far more pollutants, trekking through hotter climates or being around busy cityscapes. Even more essential to have a solid skincare routine.
We are going to dissect the products you'll use, and those you think you will, but won't (trust us).
We will also provide a guide at how to pack your beauty products like a pro, so that spilled product and nasty surprises will be a thing of the past.
And finally, we'll recommend some brands and products with great travel friendly packaging. No more $$$ moisturisers splilling over your last clean pair of undies. Let's dive in.
Tips & Tricks On Packing Products You'll Actually Use
Anyone experience packers anxiety?
Yeah that's us and probably you too.
You're starting to pack for your big trip.
You leave a product or item out because you know you won't use it, but you feel unsure for days, so you pack it anyway.
You arrive at your destination and then your product that you convinced yourself you needed sits at the bottom of your suitcase the whole holiday untouched. AKA wasted space when you could've fit in an exotic souvenir instead.
We've been there, done that. And it is NOT fun lugging all that extra weight in 30 degree European sun. So let's get down to business and start packing your beauty products SMARTLY.
Tip 1: Multi-Purpose Products Are Multi-Stress Relievers For Traveling
Space is limited here, the best way to take advantage of limited space is using multi-purpose products. As mentioned earlier you want to pick only a few products that you are definitely going to use, a great way to do this is by buying products that are multi-use, duo ended or 3-in-1's.
Here's our approach on how to find the best multi-purpose products for your limited space:
1. Combine multiple skin-prep steps into one.
Not only will you save space, you can also save time and money by finding a product that can replace 3. We always recommend the Ultra Violette Supreme Screen Sunscreen. this product is a moisturiser, primer and SPF 50+ all in one!
2. Bring duo ended products
An example of this is Brow Wiz by Anastasia Beverly Hills. Instead of carrying two products, this wonder has been created with the spooly brush at one end, and the brow pencil at the other. Win-Win if you ask us.
3. Bring products that can multi-task
An example of this is the Allyoop Pen Pal. A 4-in-1 makeup pen combining your eyeliner, lip liner, brow liner and highlighter all in one compact click pen.
4. Bring products that contain high SPF
This way you will always be sun safe and be able to pack less products. The IT Cosmetics CC Cream SPF 50 is a crowd favourite foundation whilst also containing a high SPF of 50.
5. Bring products that come with their own brush
Bringing products that have their own covered or retractable makeup applicator will mean one less messy, will-be-damaged and hard to pack brush can be left at home.
Tip 2: Swap beauty products for more durable, dry or solid alternatives
Let's learn how to avoid product spills, save luggage space, reduce our liquids, and swap our products for smart travel friendly alternatives.
Foundation
Sticks/Creams over Powders/Liquids
You might be using foundation everyday on your trip (cause who doesn't want amazing travel photos) so this is an important one.
Powder products can be shaken up and are more likely to explode on scene. Liquid can run everywhere and ruin your cosmetic case if it's a pump or the cap falls off.
We prefer travelling with foundation sticks like the YSL All Hours. Gives a beautiful smooth finish that lasts all day, also easy to re-apply if any comes off. Or a cream foundation that's compact and mess free, like the lilah B Marvelous Matte Crème Foundation.
Blush & Contour
Sticks over Powder
With so many different stick based blushes and contours available in the beauty space, there's no reason you can't find your favourite shade and colour to suit.
Try Fenty's Match Six Matte Skinstick or Clinique's range of Chubby Sticks which can do anything from contouring, to giving your lip & cheeks a splash of colour.
Eyeshadow
Pencils over Palettes
In any given palette, how many colours do you actually use in any given look? Probably just 3-4. Which means if you carry around an eyeshadow palette whilst travelling, you're probably not going to use a whole heap. You also risk breaking up the pressed powder and loosing a lot of product.
Instead, swap to 3-4 different eyeshadow sticks, they'll be easier to pack and easier to apply without needing an additional eyeshadow brush.
Highlighter & Bronzer
Creams over Powder
Cracked and broken pressed powder is the stuff of nightmares. Especially when you're travelling. An easy swap is to pick a cream based product instead.
We love the LUMA Illuminating Highlighter – a literal pot of gold containing crushed pearl in a creamy formula. Housed in a solid compact jar, perfect for your travels.
For bronzer – the MILK Makeup Bronzer Baked Mini just needs to be swiped along your cheekbones, nose and forehead and blended in with your fingertips for fuss-free application.
Setting Makeup
Sprays over Powder
Here's a category where we actually recommend a liquid based product instead of it's counterpart.
Having oily skin means setting my make up (especially while travelling through a hot climate) is a must if I want it to last all day.
I LOVE my MAC prep + prime finishing powder but on the road, the powder goes everywhere and I need a separate brush… it's just not the best experience. Instead, switch to the MINI MAX FIX – in a perfect travel size that's fast & easy to use with just a couple of sprays.
Cleansers
Sticks over Liquids
Your stash of cleansers & shampoos will make up the bulk of your in-flight liquid allowance. Especially important if you're trying to travel with only carry-on luggage.
Solid cleansing sticks not only reduce your total liquid count, but also run no risk of exploding after a flight has increased the pressure in your cleanser tube or in your luggage after unexpected turbulence.
We highly recommend the NEOGEN green tea stick cleanser. It has natural oils to help remove makeup and is cased in solid packaging that can weather some knocks.
Exfoliator
Powder over Liquids
Another easy way to reduce your liquid count will be to swap out any liquid/cream exfoliators (and or cleansers) for powder alternatives.
The Daily Microfoliant or Superfoliant by Dermalogica both have 13g size powder products that activate when in contact with water. Superfoliant also helps to absorb environmental toxins and guard the skin against pollution.
Perfume
Solids over Liquids
No one wants to carry a heavy glass perfume bottle anywhere. Filling a travel perfume atomiser can also get pretty messy.
Instead, slip a small solid perfume into your cosmetic pouch, it'll be 1/10th of the size, guarantee no spills and you can have it on you at all times, from the air plane to a night out, always there for a refresh.
Jo Malone's Fragrance Combining Palette is a sleek little number that let's you to pick two scents you can either use on their own or combine together for a new scent combination.
Tip 3: Know your favourites before you go.
Let's say that you could only have 5 make-up products for the rest of your life.
Which ones do you gravitate to immediately?
We all have our own 'beauty must-haves', the ones you KNOW you look good in and can put on in 2 minutes flat. This could be a foundation, lip-gloss and mascara, or it might be a concealer, contouring stick, and eyeshadow.
Try to create your best look with the least amount of product. Play around and have fun with it before you go! Without this trial and error period pre-trip, you will run the risk of packing your Laura Mercier setting powder which might I add will most likely spill through your makeup bag (expensive & messy). Or lugging around your 24 colour eyeshadow palette which you'll only use 10% of.
Be honest with yourself and try to go a little more minimal on your make-up routine. You can still look and feel great if you pack your favourite beauty products.
As for your skincare products, it works the same. You may use a moisturiser, SPF, Vitamin A,B,C to Z, an eye cream, AHAs, BHAs, masks and more in a complex weekly cocktail routine. Instead, pick your must-haves, trial different combinations throughout the weeks leading up to your trip and you'll start to know what products you will definitely use.
Tip 4: Only pack beauty products that are built to travel
We are suckers for aesthetic packaging, and we want it to stay aesthetic… at home.
Avoid pumps without caps (like The Ordinary Foundation), large glass bottle products, odd shaped mascara packaging & any fragile plastic packaging.
If you do need a brush… go retractable
We love this Retractable Travel Brush by nude by nature. Perfect for all powder blushes, setting powder & more. Will keep your bristles and makeup case clean whilst you adventure.
Say yes to pencils & cylindrical packaging
Most of your makeup can pretty much be found in pencil, stick or cylindrical packaging. From eyeliner, mascara to concealers and lipsticks, the more similar shaped products you have, the easier it will be to pack your cosmetic bag.
We recommend packing these beauty products together and tying them together with a hair tie for extra protection.
Jars are sturdy, small & great for travel
Lots of great products come in plastic or glass jars. They're easy to stack in your toiletry bag, small enough to fit into lots of different pockets and very sturdy and can handle the bumps along the way.
We love Kiehl's Ultra Facial Cream, a super hydrating lightweight moisturiser that's fragrance free and perfect for all skin-types. Comes in a 28ml size that's perfect for travels.
How to actually pack beauty products into your travel bag
Step 1:
Pack beauty products that are fragile or products you want to freshen up with in your carry on – moisturiser, tinted lip-balm, sunscreen are our skincare essentials. Eyeliner, concealer, solid perfume and brow pencil if we need to look and feel alive right off the plane. A small tight-knit circle that can get you through any situation.
Step 2:
Bury your more fragile items in the middle of your suitcase and keep your harder/more durable items on the outside. This way you are protecting your bottled/more fragile items in the middle of the case. Like bubble wrap, but with your clothes.
Step 3:
Keep your face serums & oils together in a reusable zip lock bag, this way if there is any spillage it is within the reusable bag and not all over your clothes or other skincare products – oil is hard and messy to clean up, not to mention even more difficult while you travel.
Step 4:
If you do decide to bring any glass products, you can always wrap it in a pair of clean socks or undies and secure it with a hair tie to prevent it from knocking any of your other products
Step 5:
Try to organise similar items together. Keep all your make-up in one case. Your bathroom/toiletries in another case. This will save you time as you won't be emptying your bag everyday looking for items as you know what goes where.
Step 6:
Place your beauty & toiletries in a clear plastic beauty case, this helps to you find all your product quickly and (god forbid) if any spills happen, the beauty case will contain most of the spill from the rest of your luggage.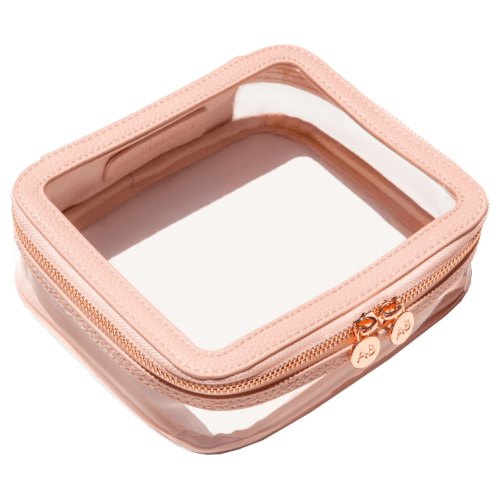 Medium Cosmetic Bag
Adore Beauty
Lastly, Some Of Our Favourite Travel Sets
Travel Kit
Grown Alchemist
The perfect travel kit with all of your essentials, including their gentle facial cleanser, exfoliant, body cleanser, shampoo, conditioner, face, body & hand cream. Packed away in a sleek black zip bag.
Shop Here
Essentials Bag
Malin+Goetz
Cover all bases with this Essentials Bag by Malin + Goetz, a 6 bottle set with a face and body cleanser, face and body moisturiser and finally shampoo and conditioner for hair. All in a clear bag for easy packing and carry-on approved.
Shop Here
Balance It All Essentials Set
OLE HENRIKSEN
A 3-piece travel set to cleanse, control oil and balance the skin's complexion. Featuring a lightweight cleanser, a balancing toner and a lightweight but hydrating moisturiser that keeps pores clear and clean.
Shop Here
We also just wanted to remind our readers that we don't believe you need makeup to be your best self or any kind of self. However, our ethos is whatever makes you feel your best is what we encourage you to do. We hope you have an absolutely amazing holiday, and we'd love to hear if any of our tips came in handy. Safe travels xx