29 Jul

12 Of The Best Night Markets To Visit in Kuala Lumpur
Fabled for its melting-pot of culture in Southeast Asia, Kuala Lumpur is the capital city and urban area of Malaysia. Renowned for its mighty skyscrapers, 451m-tall Petronas Twin Towers, state-of-the-art infrastructure and distinct architectural works of art, Kuala Lumpur boasts some of the best night markets around where you get to enjoy authentic local Malaysian flavours and the best bargains to splurge on.
Escape the shopping malls and head over to Petaling Street, Kasturi Walk, or Chow Kit market instead, where you'll discover plentiful merchandise ranging from handicrafts, fashion pieces, to fresh produce, local street foods, just to name a few.
Get the lowdown of the best night markets in Kuala Lumpur and why they deserve a spot on your bucket list.
In This Kuala Lumpur Night Market Guide:
Best Night Markets for Chinese Food
1. Sri Petaling Night Market
Photo by: Living Nomads
Though featuring a whole lot of other items such as trendy clothing, this night market in KL is best known for its variety of Chinese delicacies courtesy of the nearby Chinatown—Malaysia's most famous tourist destination. Say you're looking to devour the most scrumptious salted-egg chicken and squid available, look no further than Sri Petaling Night Market. If you're smelling a somewhat gnarly scent, a cross between burning garbage and body odor, wafting through the narrow alleys of this street market, it's just the stinky tofu. Will you dare to try it out?
Bandar Baru Sri Petaling, 57000 Kuala Lumpur
Tuesday: 5pm - 11PM
2. Klang Lama Night Market
Photo by: Living Nomads
The Klang Lama street food night market in Kuala Lumpur is notable for its Taiwanese fried chicken chop which people would go above and beyond to get a taste of. You can also find a plethora of stalls selling freshly cut fruits, smoothies, bubble teas, curry pork noodles, rice, vermicelli, you name it they have it. To end your feast on a sweet note, some stalls offer tasty crepes, chocolate cakes, and even Chinese traditional "kuehs". We urge you to bring along extra cash as you'll certainly be shelling out here.
Bandar Baru Sri Petaling, 57000 Kuala Lumpur
Wednesday: 5.30–10.30PM
3. Happy Garden Night Market
Photo by: Living Nomads
Also known as Taman Gembira, Happy Garden is a night market in Malaysia with a long history. Living up to its name, this place is like a happy garden filled with street side stalls selling traditional Malaysian and Chinese delicacies. You get to actually experience long queues for food items like their highly sought after tong sui (sweet dessert soup), fried rice cakes, bubble tea, stir fry carrot cakes, homemade soybean milk, and so many more. A visit to the Pasar Malam Happy Garden will provide you with a glimpse of how the locals are fond of their street foods.
Jalan Nyaman 1, Taman Bukit Indah, 58200 Kuala Lumpur
Saturday: 5pm - 10Pm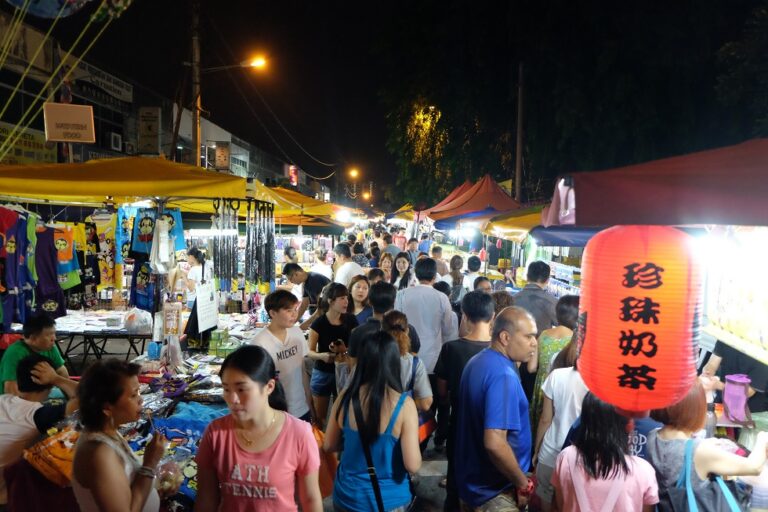 Photo by: Taufulou
OUG Pasar Malam is another coveted spot for delicious Malaysian street food. Known as a predominantly Malaysian Chinese night market, the scene here is almost similar to that of Taman Connaught night market but here has a rather relaxed crowd. Some of the delicacies visitors will go out of their way to get a taste of include deep fried fish skin, salted egg squid, sea coconut drink, Taiwanese milk tea, colourful steamed dumplings and more. If you're absolutely famished, the laksa stall makes for a solid choice. Alternatively, you can head over to the tom yum steamboat stall nearby and see which one your taste buds are more in favour of!
Taman OUG, 58200 Kuala Lumpur
Thursday: 6PM-12AM
Best Night Markets for Malay Food
5. Tapak Urban Street Dining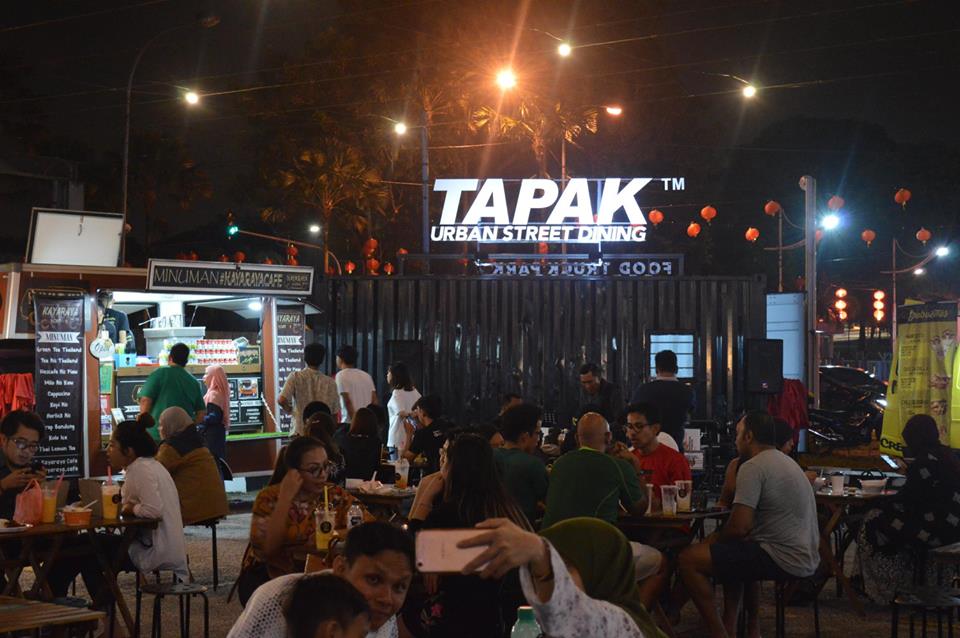 Photo by: Discover KL
Unlike other night markets in Kuala Lumpur, this one takes on a modern twist. Famous for serving local Malaysian cuisine with a western touch, Tapak is a market with trucks that provide fast food for visitors. These trucks have their very own kitchens and menus which many refer to as miniature and mobile restaurants. You'll appreciate that this market is open every evening and everyday of the week, allowing you to drop by whenever you fancy. Some of their must-gets include sandwiches, pasta, mac and cheese, freshly squeezed fruit juices, and many more. This unique night street resembles a chic, Western-style entertainment area located right in the hustle and bustle of KL, hence frequented by the neighbourhood youths.
Tapak 2A Night Street, Hampshire Park, Kuala Lumpur
Monday to Sunday: 6PM–12AM
6. Jalan Alor Night Market

Photo by: Live Less Ordinary
Located in the heart of Bukit Bintang (Kuala Lumpur's city centre), Jalan Alor is a night market in KL offering a diverse selection of cuisines. From Malaysian specialties to familiar dishes from our neighbouring countries, including Vietnamese pho, Thailand's Tom Yum seafood soup, Indian curry dishes, Chinese hot pot and more. Jalan Alor is also a great place if you're looking to feast on traditional Malaysian dishes such as satay (meat skewers), nasi lemak (fragrant coconut rice), nasi goreng (fried rice), nasi kandar (steamed rice with an array gravies and side dishes), teh ais (iced milk tea), the list goes on. Most importantly, they're all extremely affordable, at only around RM20 to 30 per dish and the chefs don't compromise on quality as well!
We recommend: Wong Ah Wah's chicken wings, just don't sit too close to where they cook the wings as it can get very smoky
Jalan Alor, Bukit Bintang, 50200 Kuala Lumpur
Monday to Sunday: 4PM–3AM
7. Kampung Baru Night Market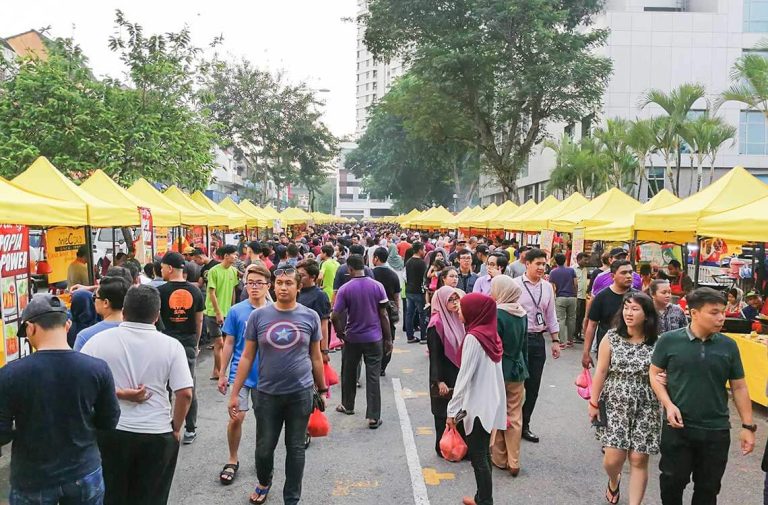 Photo by: Motherhood
Some call it the Kampung Baru Sunday Market (the market runs from Saturday evening to early Sunday morning), the Kampung Baru Night Market was founded in 1899. Established to serve the local Malay community of the city, this is a culinary paradise for those looking to savour Malay specialties, such as rojak (traditional salad made with fresh fruits, vegetables or various ingredients), satay, nasi lemak, and colourful kuih muih (local malay desserts). You'd be surprised to find out that this place is also a great shopping avenue for those looking to purchase traditional Malay apparel, such as the sarong, baju kurung, songkok, as well as traditional jewelleries and handicrafts. You'll also stumble upon rows of stalls selling books, clothes, and household items at competitive prices here.
Jalan Raja Muda Musa, Kuala Lumpur
Saturday: 6PM-1AM
8. Bangsar Baru Night Market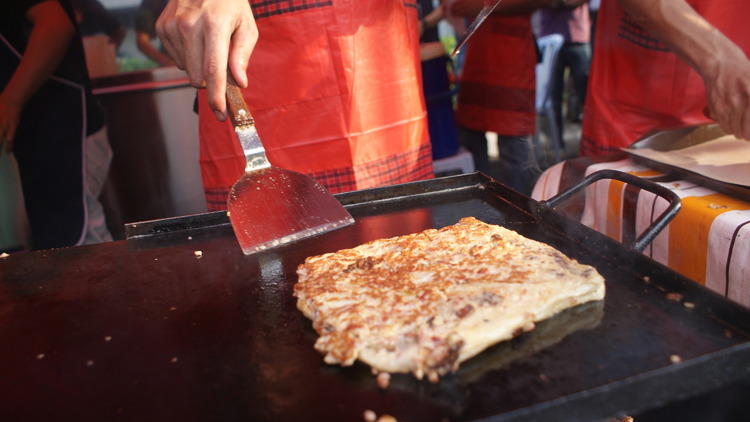 Photo by: Timeout
Bangsar Baru night market is where you'll find a variety of Malaysian-style fresh seafood dishes at competitive prices, including ikan bakar (grilled fish), keropok lekor (fish crackers), sotong masak hitam (spicy black ink squid), and many more. After a heavy seafood meal, make your way to their fruit stalls whose products are sourced from local farmers, hence the cheap price. Overall, this night market isn't the most extensive but activity peaks during the Ramadan period when evening runs past midnight. During this time around, you'll witness stalls competing in specialties from nasi kukus (steamed rice with various dishes) to kebabs, murtabaks (stuffed pancake), and perfectly grilled beef satays.
Bangsar Baru, Kuala Lumpur
Sunday: 5.30–11PM
Best Night Markets for A Shopping Spree
9. Pasar Malam Taman Connaught

Photo by: oo-foodielicious
Known as Cheras Pasar Malam amongst locals, Taman Connaught night market is by far the longest in Kuala Lumpur to date, and is home to a total of 700 stalls throughout the entire stretch. This market is a shopping complex of many famous stalls, selling plushies, trendy fashion pieces, accessories, bags, crafts, household items, and all the thingamabobs at fairly reasonable prices. Apart from shopping, this night market in KL is also known for its range of desserts, finger-foods, as well as local Malaysian and international cuisines. You'll also love that it's conveniently located nearby the railway and metro station, making travelling here much easier. While it's most crowded and bustling from 7PM to 9PM, we advise you to pay close attention to your personal belongings during this time around.
Jalan Cerdas, Taman Connaught, Wilayah Persekutuan Kuala Lumpur
Wednesday: 5.30PM-1AM

Photo by: Living Nomads
Amongst the best markets in Kuala Lumpur that can make you shop till you drop (literally), Kasturi Walk features many shops specialising in handbags, watches, t-shirts, accessories, and delectable local specialties. If you're into handicrafts, batik, handmade souvenirs, antiques, and goods alike, this is the place to go. Very similar to what Petaling Street has to offer but there are more trendy-looking stalls here with most of the owners being youngsters. Upon entrance, you'll be greeted by the giant kite situated right at the beginning of the street. What makes this spot so unique is the fact that they have streets dedicated to different ethnic groups like Malay Street and Little India.
Jalan Kasturi Street, Kuala Lumpur
Monday to Sunday: 10AM–11.30PM
11. Fiesta Nite at Plaza Mont' Kiara

Photo by: Living Nomads
Distinguishing itself from the other local night markets in Kuala Lumpur, the Fiesta Nite at Plaza Mont' Kiara is a rather upscale kind of market. This place is frequented by office workers and nearby residents, who find the quality of goods here to be considerably better than that of those sold in other night markets across the city. There are 80 different stalls coming together at this night market, adjacent to the fountain courtyard, offering its visitors the best choices of fresh flowers, fruits, clothes, books, together with imported food items. Apart from these commercial products, you'll also encounter tons of handmade soaps and homemade pastries by local bakers.
The Courtyard, Plaza Mont' Kiara 2, Jalan Kiara, Kuala Lumpur
Thursday: 3-10PM
12. Jalan Masjid India Market

Photo by: Viator
One of the best night markets in Kuala Lumpur, the Jalan Masjid India Market boasts endless rows of stalls selling goods like bags, accessories, toys, authentic Indian wear, jewellery and souvenirs. Catering especially to the local Indian Muslim community who reside in Kuala Lumpur, you'll see several shops here offering fresh produce, herbs as well as spices. Be sure to check out their vast collection of Punjabi suits and sarees offered in vibrant colours and patterns. While you're there, don't miss out on the local delicacies that are served here, such as nasi campur (steamed rice with a variety of gravies and side dishes), Ramly burgers, mee goreng (stir-fry noodles), and so on and so forth.
Jalan Masjid India, Kuala Lumpur
Monday to Sunday: 10AM–9PM
Kuala Lumpur Night Market Frequently Asked Questions
What is 'night market' in Malay?
Night market translates to Pasar Malam in the Malay language.
What are some must-try foods at a night market in KL?
For standard Malaysia fare, below are some of the delicacies you mustn't miss out on:
Char kway teow – stir-fry flat noodles
Radish cake
Scallop omelette
Chicken or beef satay with peanut sauce
Lok lok – skewered meats such as tofu, cheese tofu, chicken liver, mushrooms, and other vegetables alike
Salted herbed chicken
Lo mai gai – sticky brown rice with chicken
Ikan bakar – Malay-style grilled fish
Nasi lemak – Fragrant coconut rice served with spicy sambal, fried crispy anchovies, deep-fried fish or chicken, hard boiled egg, and sliced cucumbers
Satay – Seasoned, skewered and grilled meat served with peanut sauce
For desserts, here are our recommendations:
Bird's nest
Tong sui – traditional sweet soup or custard made with a base of either water or coconut milk
Taufufa – sweet soy beancurd
Thai iced tea
Calamansi plum juice
Do night markets in Kuala Lumpur accept card payments?
Unfortunately, debit and credit cards aren't as widely accepted in KL night markets as compared to shopping malls. Keep an eye out on vendors who accept qr code payment. Otherwise, it's always desirable to bring along sufficient cash when visiting a night market in KL.
Is it safe to eat street food at KL night markets?
Street food sold at KL night markets are generally safe and hygienic. However, to be on the safer side, avoid buying drinks from establishments that use unboiled or unfiltered water. Next, stay away from food stalls who leave their food exposed because food left at room temperature doesn't stay good for long. Finally, Malaysian food can be quite spicy so consume spicy foods based on your spice tolerance & don't go overboard!
Do I need to tip when dining out at night markets in KL?
In Malaysia, and night markets specifically, people don't normally practise tipping. Meaning, you don't have to tip unless stated otherwise. Of course, it's not wrong to give a tip, anyone will be more than happy to receive it.
Street food is a common attribute shared by these night markets, which only adds to the already indulging experience of being out at night time and exploring these local bazaars. These outdoor markets, however, can get pretty hot and humid, and also very crowded; so we highly suggest that you head out in casual and comfortable clothes, and drink plenty of fluids to keep yourself hydrated at all times.