02 Mar

12 Of The Best Rooftop Bars Jakarta With Unforgettable Views & Cocktails
Going to a rooftop bar is a good bet for those looking to spruce up their experience in Jakarta, whatever the occasion may be. Whether it's just to enjoy the panoramic view of the city, have a romantic dinner with drinks or a dip in the pool, here are 12 of the best rooftop bars that you can visit in the city.
In This Jakarta Rooftop Bars Guide:
Best Jakarta Rooftop Bars With Pools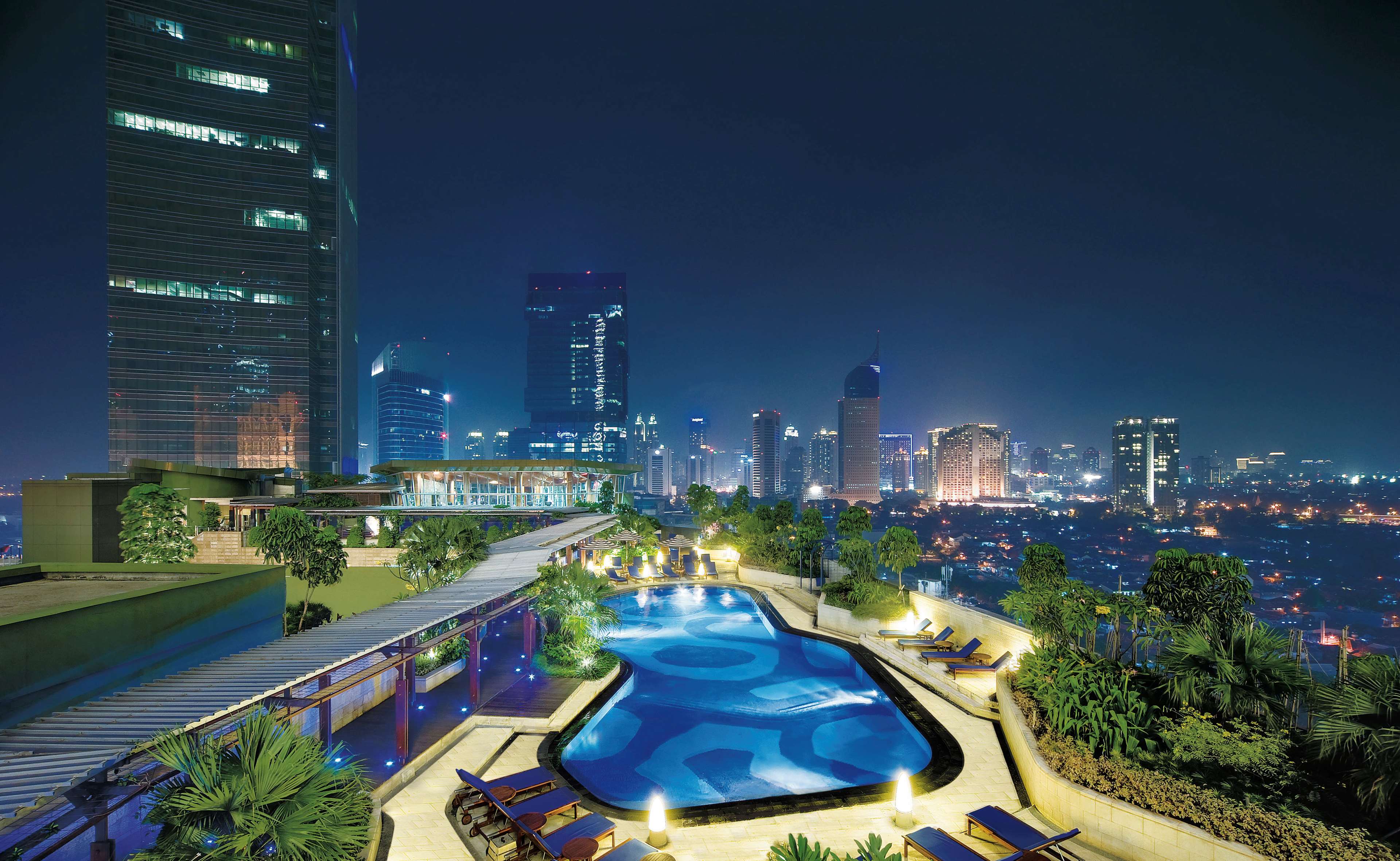 Photo by: Hotel Indonesia Kempinski Jakarta
You can never go wrong with the classics. Set atop one of Jakarta's most historic hotels, Hotel Indonesia Kempinski, Sky Pool Bar Café offers a splendid combo of dining, pool-side entertainment and a 360-degree view from what used to be the city's tallest building. The size of the pool here exceeds what you'd normally expect from a pool bar—feel free to do a few laps before settling into a romantic night filled with cocktails and local favourites.

Photo by: The Orient Hotel
Cafe Cali is the new kid on the upscale Thamrin block. Wrapped in Boho flair, the bar takes over the entire 32nd floor of The Orient Jakarta with a Pan American menu, perfect to accompany your dip into Cafe Cali's infinity pool and jacuzzi. Both spots provide a breathtaking unobstructed view of one of the city's most bustling areas, so just take your pick!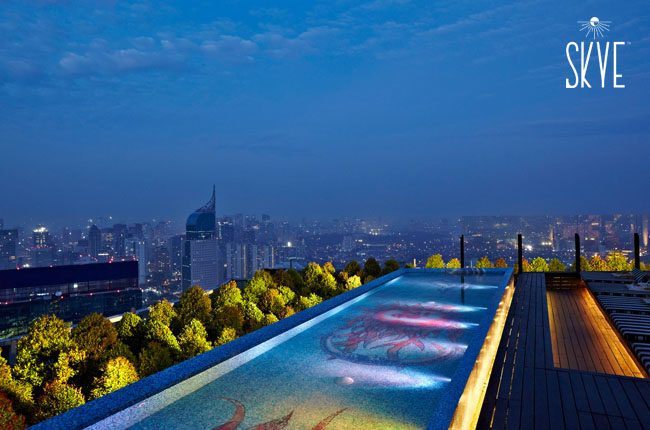 Photo by: SKYE
It's easy to feel at the top of the world when lounging at SKYE Bar & Restaurant, which sits on the crown of BCA Tower's 56 floor building. Couple the view with an elevated pool-side-barbecue style affair with an offering of smoked meat and signature cocktails by the side of an infinity pool, and you've got yourself an evening to remember.
Jakarta Rooftop Bar With The Best Views

Photo by: Marriot Bonvoy Asia
When talking about a good rooftop view in the city, the typical preference would be one that is high up and surrounded by lights from other tall buildings. While that's undoubtedly gorgeous, La Vue at The Hermitage Jakarta proves that the quieter parts of the city has gorgeous views to be proud of too. The panoramic view showcases an interesting contrast between the greeneries that surround the hotel and the distant Sudirman skyscrapers, enveloped by the sky's changing colours.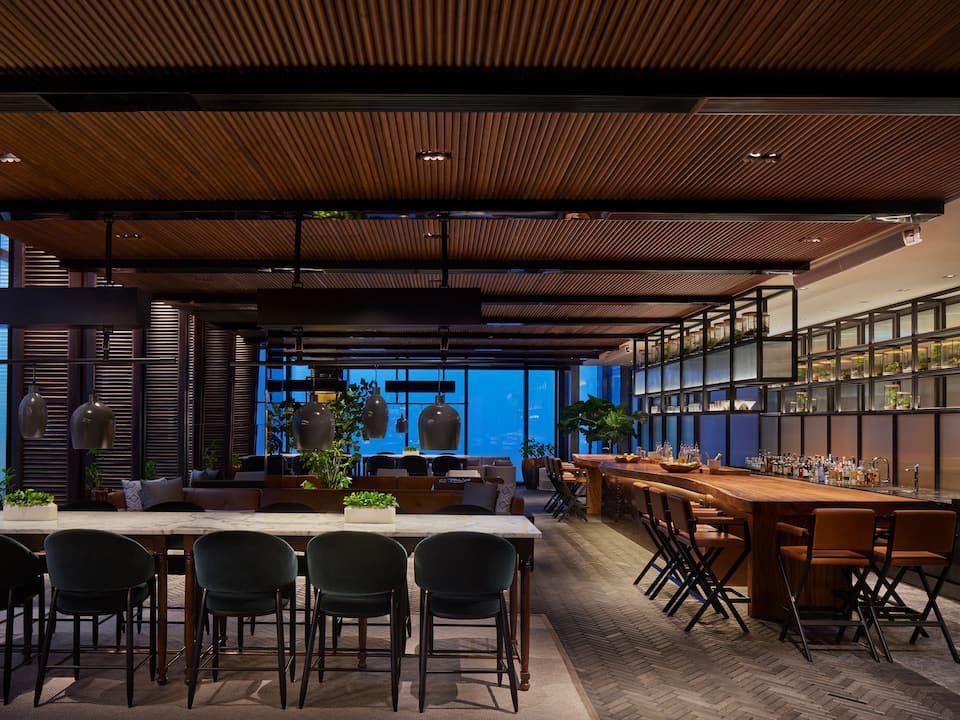 Photo by: KITA Bar
There's plenty to write home about KITA Bar: the Izakaya-esque offerings, the stylish cocktails, the tasteful interior, and of course, the splendid city panorama. Finding itself a home on top of the luxurious Park Hyatt Jakarta, KITA gains a fortunate balance of being located just off the downtown area, and thus putting much of the bustling city in full view for its visitors to enjoy.

Photo by: Coconuts Jakarta
Who wouldn't love a front seat view of the sunset? Couple that with the city skyline, and now you've got an offer you can't refuse. It's exactly what Cloud Lounge on the 49th floor of Plaza Office Tower has for its visitors. All that's left to do is grab yourself one of its highlight-worthy cocktails, kickback and lounge with clouds while accompanied with a majestic view from the top.
Rooftop Bars in Jakarta with the Best Food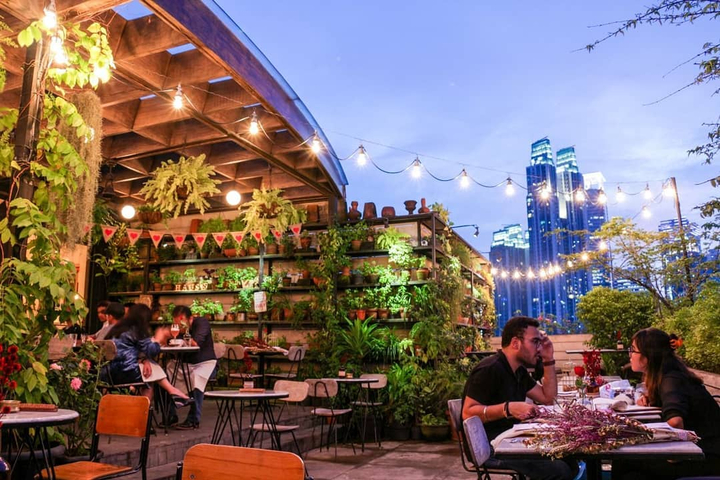 Photo by: Hause Rooftop
Hause Rooftop at MD Place is not just a bar and a restaurant, but also a backyard in spirit. Lush with herbs that are harvested as ingredients for the menu, it offers an alternative to the generally luxurious image of rooftop bars in the city. Food here embraces both Western and Eastern influences, which include organic options and it's well accompanied with an extensive selection of signature cocktails and mocktails.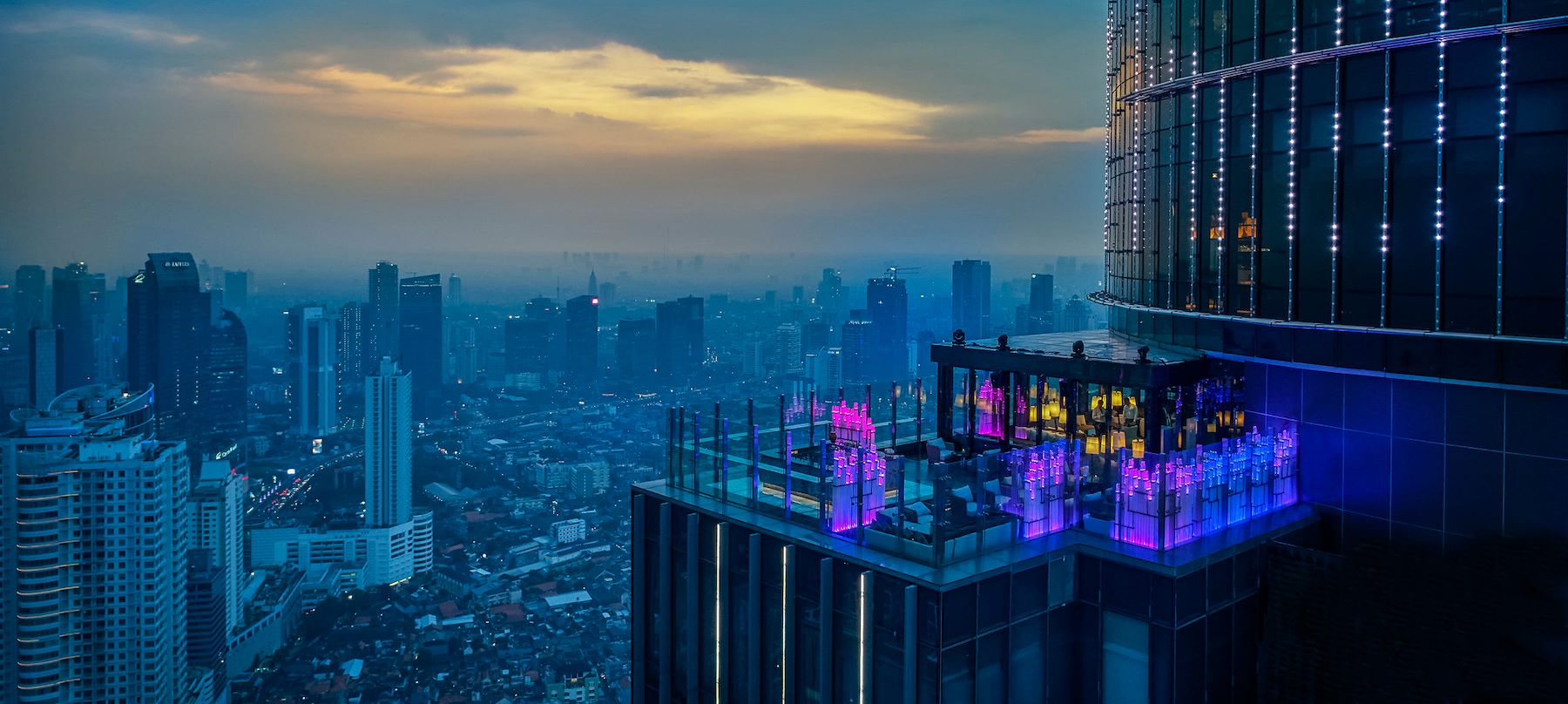 Photo by: Henshin Jakarta
Henshin goes above and beyond. And it's not just the refined Japanese-Peruvian cuisine by Chef Hajime Kusaga, nor its penchant for lavish decor, but also in a quite literal sense—the rooftop bar finds itself on the 67th floor of The Westin Jakarta's Gama Tower, one of the tallest buildings in the city. That puts you high enough to be able to see the distant sea on a clear day, so it's safe to say that this is one of the best rooftop bar views in Jakarta
9. Chāo Cháo, Alila SCBD Jakarta

Photo by: Kaja Group
Colourful with neon lights and situated high above the trendy area of SCBD, there's a playful sense of splendour and glamour to Chāo Cháo at Alila. It almost overtakes one of the biggest wins of the rooftop bar: to have Michelin-starred Chef Tong Chee Hwee as its culinary director. You can expect exquisite contemporary Chinese cuisine to complement the equally immaculate view during your visit here.
Best Hotel Rooftop Bars in Jakarta
10. K22, Fairmont Jakarta

Photo by: Fairmont
Adding a roof on top of a rooftop bar is perhaps an underrated move, especially in Jakarta, where you can rely on weather forecasts to be inaccurate. It's what K22 Bar at Fairmont Hotel Jakarta does in making sure that visitors can enjoy the captivating city view all year round, all whilst enjoying the luxurious experience of the bar, where a mix of Western and local fares are offered alongside cocktails, craft beer, and premium cigars. A popular meeting spot for for a night out and why not start your night at one of the best sky lounges in Jakarta.
11. BART, ARTOTEL Thamrin

Photo by: Domisilium Studio
BART, which is short for Bar At the Roof Top, is as straightforward as its name suggests. Sitting atop the eye-catching ARTOTEL Thamrin just off the epicentre of after-office traffic, BART offers a simple sanctuary for those looking to sip the night away with a cocktail or two and peck on tasty finger foods (including Martabak). And if you're suddenly too tired to go home, an impromptu stay at the hotel wouldn't break the bank too much.
12. The Awan, Kosenda Hotel

Photo by: Kosenda Hotel
On its website, Kosenda Hotel bills itself as a "small world ignorant of the hustle and bustle of Indonesia's capital." The Awan on its rooftop reflects the same sentiment. Revamped in 2019, the rooftop bar maintains the same laidback and jungle-like atmosphere to provide a respite for the busy bees of the capital. Light Japanese bites are on offer, coupled with well-crafted cocktails.
General FAQs about Jakarta Rooftop Bars
What to do before visiting a rooftop bar in Jakarta?
Depending on the establishment, make sure you're wearing the proper attire. Some rooftop bars may also charge a minimum spend. Do a bit of scouting first, their Instagram profile and tagged posts are a good source of information!