02 May

12 Best Nightclubs in Jakarta for an Unforgettable Party
From dancing hotspots to jazz clubs, Jakarta's nightlife scene is a treasure waiting to be uncovered.
Catering to the city's diverse communities, each club comes with its own set of unique characters, a surefire recipe for an unforgettable party!
Here are some of the best nightclubs that you should check out in Jakarta.
Best Jakarta Nightclubs For Dancing

Photo by: Coconuts Jakarta
Bumping tunes, strobing lights, it couldn't get any more straightforward than this. On hiatus for a bit due to the pandemic, the award-winning nightclub Colosseum Club has now returned in full swing. With an expansive layout and eye-catching lighting fixtures, it's easy to get hooked into the mood and lose yourself in the crowd to the sound of EDM and popular hits. Often hosting world class DJ's like Steve Aoki, Dash Berlin and Giuseppe Ottaviani, don't forget to check out who's going to be in the DJ booth before coming!
Jl. Kunir No.7, Taman Sari, West Jakarta 11110
Opening hours: 9.30PM–4AM
View this post on Instagram
Unlike the first two, both of which having been established a while ago, HUSH! is a newcomer in the scene. But that only means you can be assured that it can provide a fresh take to partying in Jakarta, especially when you take into consideration the people behind its founding: Jakarta Uncensored, a group of content creators and party curators that are well-recognised in the city.
Jl. Suryo No.30, Rawa Barat, South Jakarta 12180
Opening hours: 9PM–3AM
View this post on Instagram
Opening in late 2022 in the Senopati neighbourhood, Valhalla has secured itself a prime spot in Jakarta's nightlife scene. The club capitalised its great location with a well-curated lineup of local and international DJ to perform at its venue, guaranteeing a great night for dancing. It doesn't hurt that Valhalla is also so attractively designed—both inside and out!
Jl. Senopati No.74, South Jakarta 12110
Monday-Saturday: 9PM–3AM
Jakarta Clubs That Are Most Foreigner Friendly

Photo by: Jakarta100bars
From pictures alone, DRAGONFLY can easily impress you. Opened almost 20 years ago in 2004, the club boasts a state-of-the-art interior, a lively crowd, and let's not forget the lineup of renowned local and international DJs. In 2016, DRAGONFLY was able to snatch the number 78 spot on UK-based DJ Mag's list of the world's 100 best clubs. Expect an established community of locals and expats alike!
Graha Bip, Setiabudi, South Jakarta 12930
Wednesday, Friday, and Saturday: 9PM–4AM
View this post on Instagram
In the early 2000s, Embassy was a household name in the nightlife scene of Jakarta. It unfortunately had to close when Taman Ria Senayan was bulldozed in 2009. More than a decade later in 2021, Embassy reopened its doors in the up-and-coming lifestyle centre, ÉLYSÉE SCBD. Its reputation has remained intact after all these years, and old local and foreign regulars quickly returned, mingling alongside new party-goers.
Elyseè Building, Level 3A, Senayan, South Jakarta 10720
Wednesday, Friday, and Saturday: 7PM–2AM
View this post on Instagram
The Orient Hotel, Jl. Jenderal Sudirman No.36, Central Jakarta 10210
Opening hours:
Sunday-Wednesday: 11AM–12AM
Thruday–Saturday: 11AM–2AM
Located at the rising boutique hotel The Orient Jakarta, CASPAR is quickly establishing itself as the place to go when it comes to enjoying a night in the city for locals and expats alike. With its great curation of tipples, flavoursome Spanish feast, eye-catching interior by maximalist architect Bill Bensley, it's easy to see why.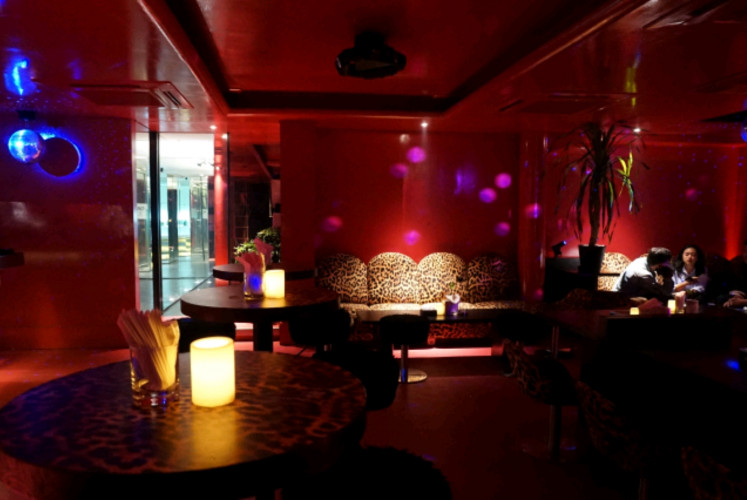 Photo by: The Jakarta Post
For the past few years, concept bar and mini nightclub ZODIAC has been a magnet for the nightlife scene of South Jakarta. One way of describing the interior is that it's campy (leopard prints mesh with bright red walls) and compact. But they've made it work in their favour, and there's not a night goes by where the place isn't brimming with the city's 20-somethings living it up to the tunes of the DJ.
Jl. Senopati Raya No.64, Kebayoran Baru, South Jakarta 12190
Opening hours:
Monday: 7PM–2AM
Tuesday-Wednesday: 7PM–1.30AM
Thursday-Saturday: 7PM–3AM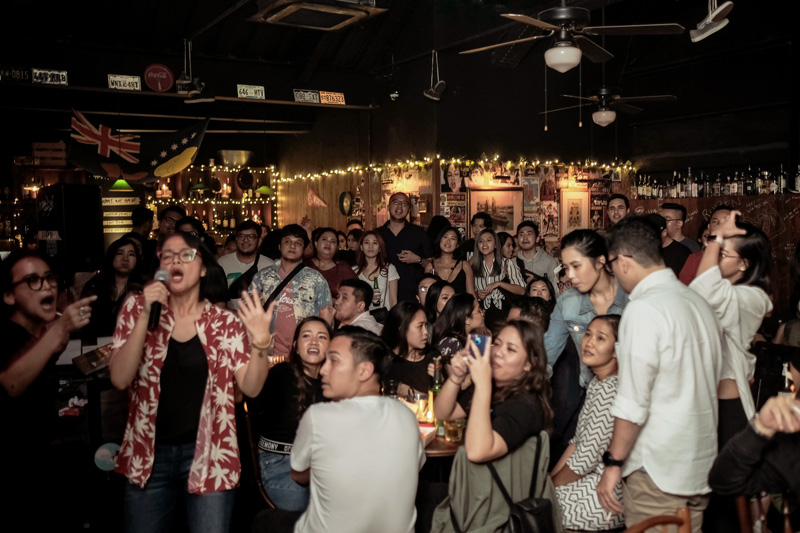 Photo by: Whiteboard Journal
A bar in name but a nightclub in practice, Duck Down Bar's all-american themed interior has been host to numerous bumping parties. Selections of tunes lean towards the nostalgic, ranging from AC/DC to Britney Spears. It's a good recipe for a lively crowd, it appears, as people rekindle sweet memories from the past and bond instantly with the people next to them.
Jl. Gunawarman No.61, Kebayoran Baru, South Jakarta 12180
Tuesday-Sunday: 6PM–2AM

Photo by: MLDSPOT
A restaurant during the day, Ding Dong Disco gets down to '70s musical mainstays during the night. And it doesn't only apply to the DJ booth, from interior to cocktails on offer, various elements of this club are crafted with the mid-century space age era in mind. This creative direction has continued to attract the city's creatives and youths over the past few years, piqued by an era before their own.
A3000 Creative Compound, Jl. Kemang Raya No.8B, Bangka, South Jakarta 12730
Monday-Saturday: 4PM–2AM
View this post on Instagram
A laidback bistro and bespoke coffee shop by day, Leon Goldstein turns it up a notch once the night descends, with the restaurant area turning into a lively dance floor once the DJ takes up their spot at the booth. And don't skip on the cocktail bar, as it comes well-stocked with artisanal options!
Jl. Wijaya I No.25, South Jakarta 12730
Opening hours:
Monday-Wednesday: 11AM-1AM
Thursday: 11AM–10PM
Friday-Saturday: 11AM-1AM
Sunday: 11AM–10PM
Best Jazz Clubs in Jakarta
View this post on Instagram
Half-hidden in a semi basement, Bebop is the latest newcomer on this list, and yet it has quickly garnered a following among the city crowd. Hinted in the name, the Japanese-style jazz club takes inspiration from "Cowboy Bebop". Easter eggs from the anime are scattered throughout the club, but it doesn't restrict itself to that. The music community of the city gets centre stage here, so expect fresh faces and creative takes on the craft coming from the DJ booth.
Jl. Senopati No.61, Kebayoran Baru, South Jakarta 12110
Monday-Saturday: 5PM–2AM
View this post on Instagram
If Bebop Jakarta is brimmed with a youthful and contemporary energy, then Motion Blue thrives in its classical jazz club set up. Set inside the third floor of Fairmont Jakarta, the club couples a refined dining experience with excellent entertainment, which can be attributed to its collaboration with the renowned jazz club Blue Note in Tokyo, bringing over numerous promising talents from the global jazz scene.
Fairmont Jakarta, Jl. Asia Afrika No.8, Central Jakarta 10270
Friday-Monday: 6PM–12AM
Frequently Asked Questions about Jakarta Nightclubs
Is there an entrance fee to nightclubs in Jakarta?
It differs with each one, but those that do usually charge highly. It's also worth noting that drinks in the country are priced highly due to taxes. So be sure to look up information about the clubs you're interested in before planning a visit to make sure you don't end up spending your entire budget in one night.
What is the minimum age to enter a club in Jakarta?
The legal drinking age in Indonesia is 21, consequently the same rule applies to nightclubs. That said, when it comes to hybrid clubs that include a restaurant, the same rules don't apply, especially during the day.
Are nightclubs in Jakarta foreigner friendly?
Of course! The nightlife scene in Jakarta brings many communities together, foreigners including. Plus, most club-goers in the city are upper middle class, and many of them speak English fluently.