13 Feb

What To Do In The Dandenong Ranges
If you're looking for a weekend getaway from Melbourne full of natural beauty, culture and food, then the Dandenong Ranges are perfect for you. Situated in Victoria, the Dandenong range is made up of more than 40 different townships and a range of activities that will keep you and your crew entertained.
From visiting local markets to taking a ride on a historic steam train, the Dandenong Ranges have something for everyone to explore. Here's our top 12 things to do if you're planning a trip there – whether it's just for the day or an extended getaway!
About The Dandenong Ranges
The Dandenong Ranges refers to the low mountain ranges of Mount Dandenong that sit at 633 metres high. The Dandenong Ranges' rich history begins with the region's traditional owners, the Wurundjeri People, who used the land for hunting and gathering.
Following the arrival of European settlers in the 1850's, the land was mainly used to source timber. Shortly after, in the early 1900's, the land became somewhat of a 'holiday' destination, marking the beginning of the Dandenong Ranges long history of tourism.
Over the years, The Dandenong Ranges has celebrated many achievements. In 1956, the first TV transmission mast was erected in Mount Dandenong, establishing the era of television in Melbourne. Many accomplished writers and artists have also called the Dandenong Ranges "home".
The suburbs that make up the Dandenong Ranges include:
Belgrave
Cockatoo
Emerald
Gembrook
Kallista
Kalorama
Menzies Creek
Monbulk
Montrose
Mount Dandenong
Olinda
Sassafras
Selby
Silvan
Sherbrooke
What to do in the Dandenong Ranges
If you want to avoid the hustle and bustle of the city, or if you can't stand the feeling of sand between your toes, then you may think there's not much left for you to do in Melbourne.
However, just under an hour drive from Melbourne's CBD, you will find the cool, tranquil and verdant heart of Melbourne; the Dandenong Ranges. Located 35km East of Melbourne, the Dandenong Ranges offers a chance for visitors to explore nature, without having to travel halfway across victoria.
More than just a pretty face, the Dandenong Ranges has an eclectic variety of fun and unique experiences. Here's our pick of what to do in the Dandenong Ranges.
Outdoors adventures in the Dandenong Ranges

Photo by: Parks Victoria
If you're a fitness fanatic who loves to exercise out in nature, then the Kokoda Track Memorial Walk – also known as the 1000 Steps – is a must visit.
Acend 290 metres through the thick rainforest of the Dandenong Ranges National Park. If the soothing, lush surroundings don't take your breath away, then the steep tracks and rugged stairs are bound to do the trick!
Built in commemoration of the soldiers who served in Papua New Guinea during World War 2, the steps are lined with informative plaques for your enjoyment (pro tip: pretend to read them while you catch your breath). The 1000 Steps make for a great day out with the family, with a playground, cafe and picnic areas available.
Tree Fern Gully Track Tremont
Opening hours: 7:00am-9:00pm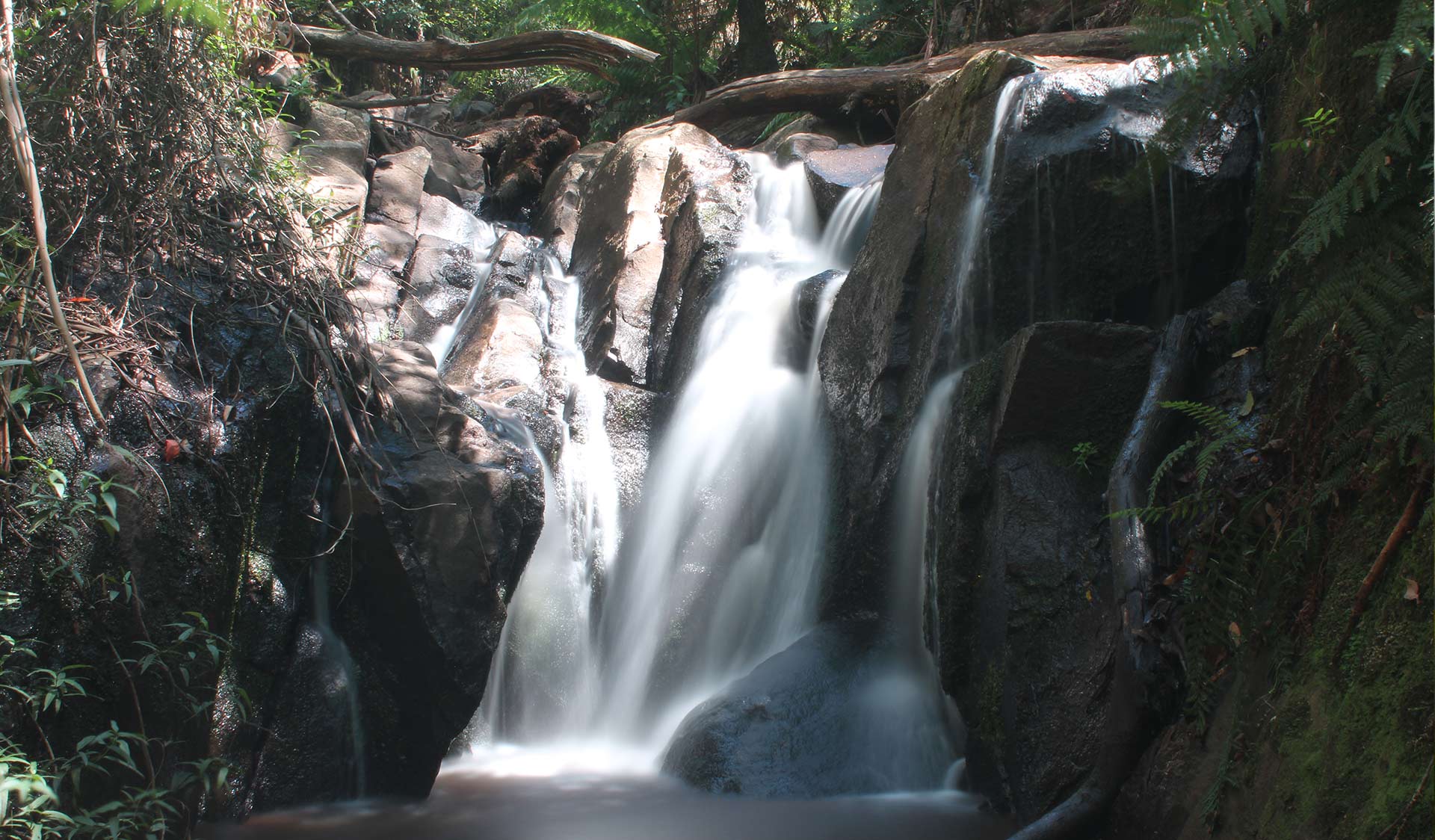 Photo by: Parks Victoria
The Dandenong Ranges are home to some of the most charming parks and walking tracks in Melbourne. At the top of that list is Olinda Falls. Whether you're looking for a day out with your partner, a friend, the kids or perhaps some quality time to yourself, Olinda Falls is the perfect spot for all occasions.
Pack some lunch and relax at Olinda Falls Picnic Ground before making the 10 to 15 minute hike through the temperate forest to Olinda Falls. Take in the stunning views of the Dandenong Ranges National Park from both the lower and upper viewing platforms available. Be sure to wear some good quality shoes, as the ground can, at times, be uneven, steep or slippery.
Loved Olinda Falls? Be sure to check out the equally stunning Sherbrooke Falls.
3. Alfred Nicholas Memorial Gardens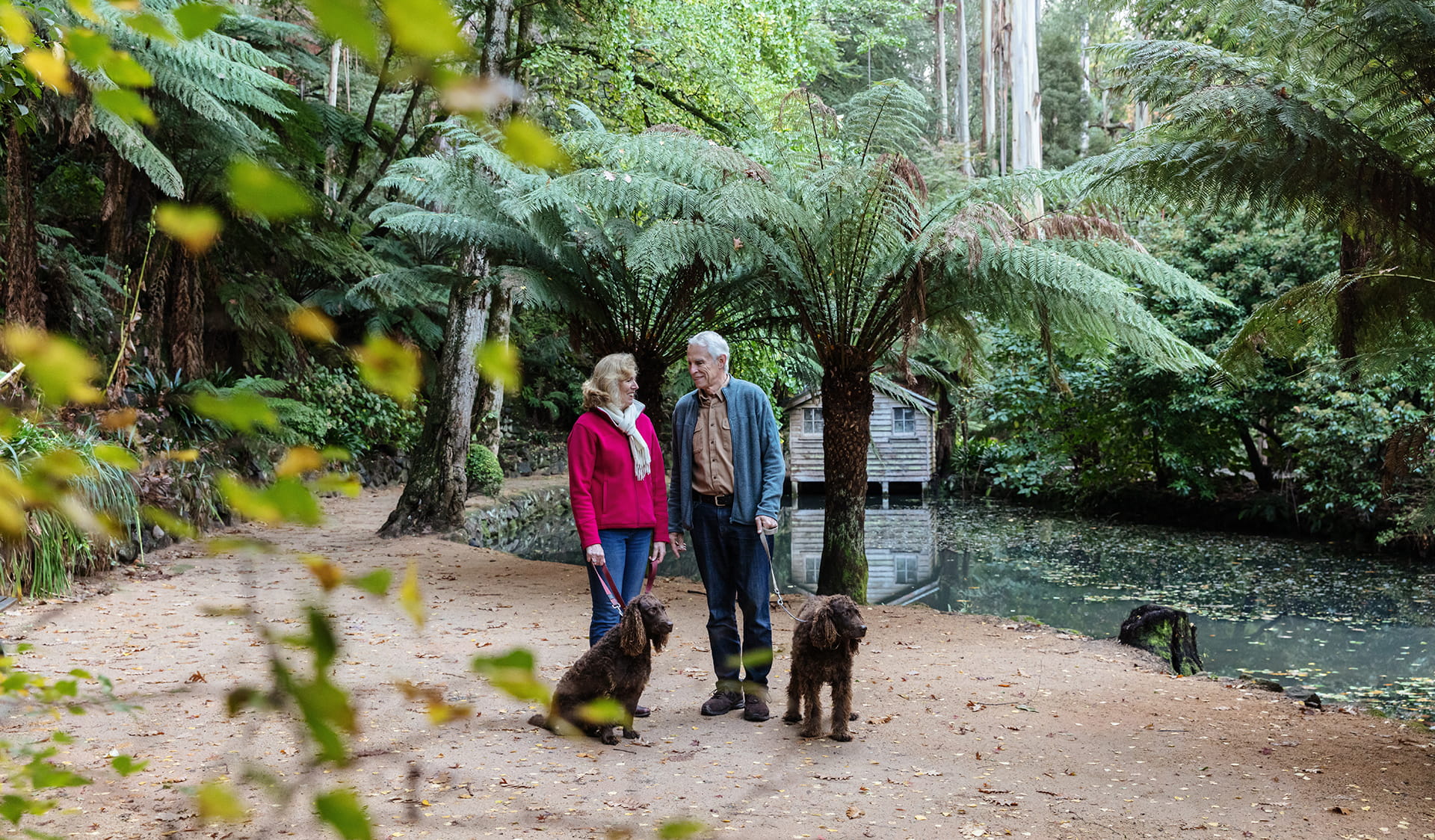 Photo by: Parks Victoria
The Alfred Nicholas Memorial Garden brings to life the magical and enchanted gardens we often read about in works of fiction. With towering trees, narrow, winding paths, small ponds, wooden bridges and a run down old boat house next to an emerald blue lake, this picturesque garden is one of the Dandenong Ranges' most gorgeous attractions.
Spend the day strolling through the gardens' many pathways. Find a cozy spot on the grass to throw down a picnic blanket and have some lunch by the lake. The Alfred Nicholas Gardens welcome dogs, as long as they're kept on a leash! Located in Sherbrooke, the drive up through the winding, tree-lined roads are almost as stunning as the garden itself.
1A Sherbrooke Road Sherbrooke
Opening hours: 10:00am - 5:00pm
View this post on Instagram

There's nothing better than a good view, and you'll find no better view than at Burkes Lookout. To find this hidden gem, you'll need to use Google Maps. The track leading up to Burkes Lookout is tucked away behind an unassuming car park located on Osprey Road off of Ridge Road. Once you've parked your car, it's just a short walk up the Kyeema Track before you start to catch a glimpse of one of Melbourne's most dazzling views peering from behind the trees. All that's left to do is relax and enjoy the peaceful surroundings and stunning view.
We would recommend bringing a picnic blanket and some food, but be sure to take your rubbish with you! For the best view, head to Burkes Lookout at sunset, to watch the sky change before your eyes, or at night, to admire the thousands of twinkling lights below.
For those visiting the Dandenong Ranges with kids, you may prefer to visit SkyHigh. Less than a five minute drive from Burkes Lookout, Skyhigh offers stunning panoramic views of Melbourne, as well as dining options and other attractions that the whole family will enjoy.
Osprey Road Mount Dandenong
Fun Activities in the Dandenong Ranges
5. Browse Local Makers At Olinda Collective
View this post on Instagram
Olinda is home to a flourishing artistic community, making it the perfect location for Olinda Collective to set up shop. Dubbed the 'home of makers and creators', Olinda Collective is a treasure trove of unique, one-of-a-kind items produced by small and local businesses around Melbourne.
Olinda Collective hosts over 30 stall holders, giving the store an eclectic variety of items available to purchase. Browse through an array of knitted goods, vintage clothes, hand-made jewellery, unique artwork, plants, soaps and body washes, kids clothes and toys and other eccentric items. While you're there, be sure to pop into the well-loved Pie in the Sky just across the road for some lunch.
Read on to learn more about Olinda Collective.
Shop 5/540 Mount Dandenong Tourist Road Olinda
Opening hours: 10:00am-5:00pm

Photo by: Puffing Billy Raleway
When first constructed in the early 1900's, the Puffing Billy Railway line afforded people the opportunity to explore the secluded Dandenong Ranges regions. Decades later, Puffing Billy continues to roll on proudly hosting visitors from all across the globe. The Puffing Billy experience is a fantastic way to explore the remarkable verdant bushlands of the Dandenong Ranges. Sit back and relax as you ride from Belgrave to Gembrook on a vintage steam train. We would recommend taking the shorter routes and hopping off the train to explore some of the Range's quaint suburbs such as Menzies Creek, Emerald, Lakeside and Cockatoo.
While Puffing Billy offers family friendly fun by day, things take a dark turn come night. Looking for a unique night out with friends? Board the train and try to crack the mystery of, 'Murder on the Puffing Billy'. With food, drinks, dress ups, a murder mystery, and, of course, Puffing Billy itself, this is one night you won't forget!
1 Old Monbulk Road Belgrave
Opening hours:
Saturday-Sunday: 9:00am-12:00pm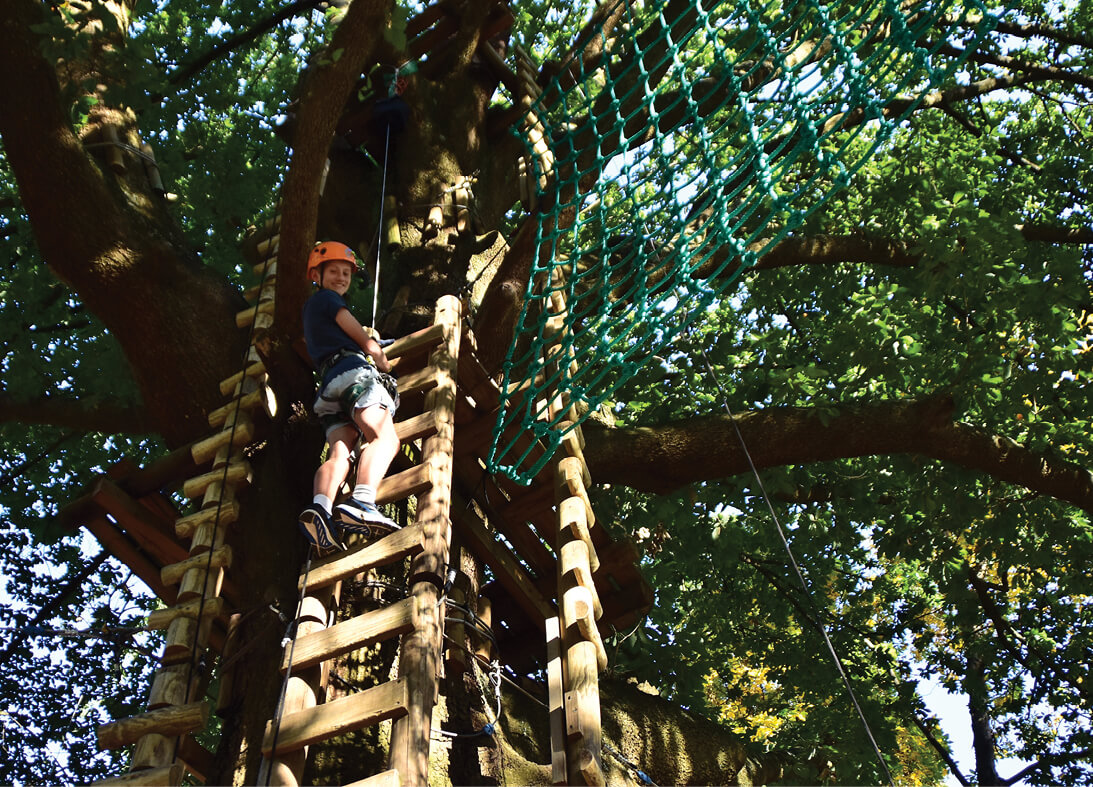 Photo by: Treetops Adventure
After spending the day in the Dandenong Ranges, you're probably sick of looking at the plain old roots and trunks of the region's many trees. If you're dying for a new point of view, then head to Tree Top Adventure in Belgrave and soar among the treetops.
Glide along flying foxes, crawl through tunnels, climb up ladders and walk along rickety planks and wobbly ropes among the lush trees of Glen Harrow Park. Located on traditional Wurundjeri land, Glen Harrow Park is home to some rare, old and stunning trees, including a 150-year-old Algerian Oak tree.
Tree Adventure has over 100 challenges across an array of different courses varying in difficulty levels. Scared of heights? No worries! You can watch and cheer on your friends from down below. Tree Adventure is the perfect activity for a family day out, rain or shine.
Old Monbulk Road Belgrave
Opening hours:
Monday-Tuesday 11:00am - 5:00pm
Wednesday-Friday 10:00am - 5:00pm
Saturday-Sunday 9:00am - 5:00pm
8. Blue Hills Berries and Cherries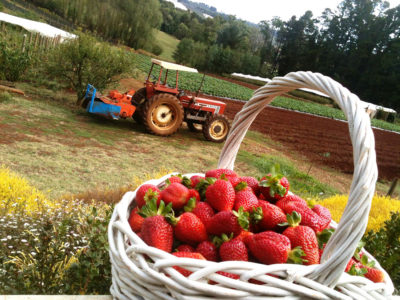 Photo by: Blue Hill Berries & Cherries
For those of you who enjoy the more mellow experiences, head up to Silvan and visit Blue Hills Berries and Cherries. The Blue Hills farms are owned and operated by the Chapman family whose history of farming in Silvan dates back to 1894. However, this is not your average farm.
At Blue Hills Berries and Cherries you get to pick your very own fruit. While you could easily pop into your local grocery store and buy a punnet, it doesn't compare to the satisfaction you get from picking your own fruit by hand. Soak up some sun and enjoy the serene ambiance of one of Blue Hills' three farms as you pick cherries, raspberries, blueberries and strawberries.
What you pick will depend on which farm you visit, as well as what fruits are in season. Be sure to check the 'fruit report' on the Blue Hills Berries and Cherries website before you go.
While Blue Hills is our favourite picking spot, you may also want to check out the U-Pick Trail which lists up to 10 fruit picking locations across the Dandenong Ranges and the Yarra Valley regions.
30 Chapman Road Silvan & 55 George Road Silvan (for cherry picking) or 27 Parker Road Silvan (for berry picking).
Opening hours:
Thursday-Sunday 9:00am - 4:00pm
Dining spots to try in the Dandenong Ranges
View this post on Instagram
Belgrave is a charming suburb filled with some great local businesses such as Earthly Pleasures Cafe. Located on the busy main street of Belgrave, this cafe is set in an old stone house that looks as though it has been plucked straight from Medieval times. Dine inside this elegant building, or opt to sit outside in the lush, flora filled gardens.
Earthly Pleasures offers an impressive selection of vegan and vegetarian options. The cafe also focuses on sourcing their products from producers who share a likemindedness for ethical and sustainable practices. Whether you're looking to catch up with some friends for lunch, or sit outside with a good book and an even better coffee, Earthly Pleasure's quiet and relaxed ambience is ideal for all occasions.
1627 Burwood Highway Belgrave
Opening hours:
Wednesday-Sunday 8:30am - 4:00pm
10. Miss Marple's Tea Room
View this post on Instagram
If devouring tea and desserts in a Tudor-style building based off of a series of detective novels isn't your normal dining experience, you're not alone. But that's exactly what's on offer at Miss Marple's Tea Room. Located in Sassafras, this dining experience pays homage to Agatha Christie's titular character Miss Jane Marple; a posh, crime solving, elderly English woman.
This one-of-a-kind restaurant is infamous within the Dandenong Ranges and wait times to get in can take up to two hours. The owners of Miss Marple's Tea Room reccomends that you come with an empty stomach to make the most out of their wide variety of sweet and savoury treats.
Sip on a piping hot cup of tea and indulge in some of Miss Marple's Scones served with home-made jam and cream. With floral patterned tablecloths and ornate teacups and teapots, you'd struggle to find a more quaint – or more "English" – dining experience anywhere else in Melbourne.
382 Mount Dandenong Road Sassafras
Opening hours:
Monday-Friday 11:00am - 4:00pm
Saturday-Sunday 11:00am - 4:30pm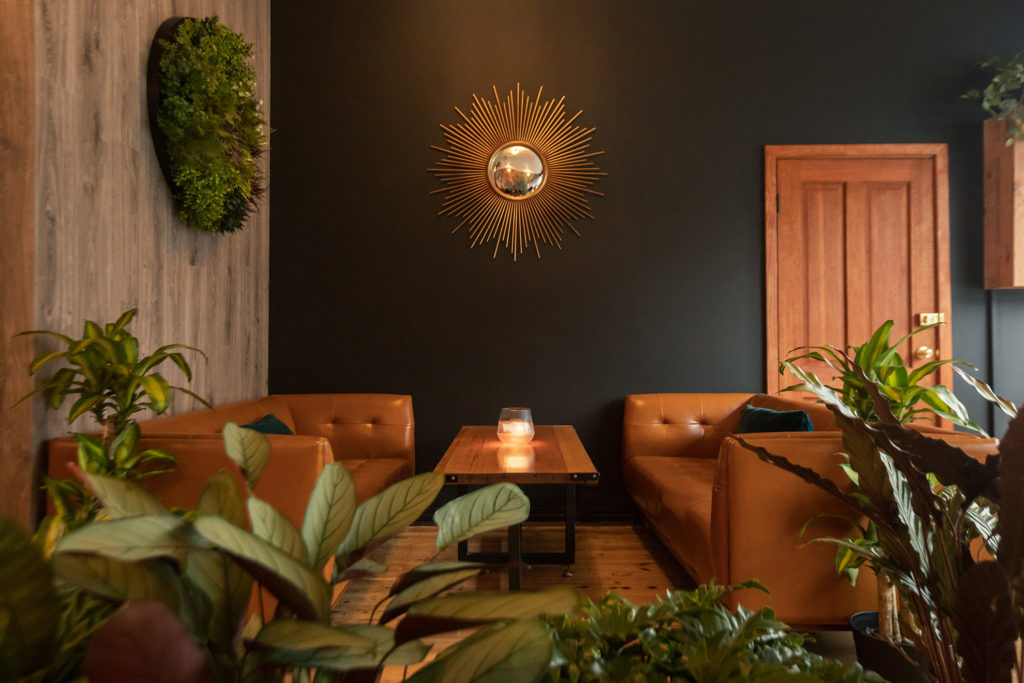 Photo by: Sooki Lounge
If you're looking for a nice spot to stop for a drink, look no further than Sooki Lounge. We weren't lying when we said Belgrave was home to some great local businesses as Sooki Lounge is one of the coolest bars you'll come across in the Dandenong Ranges. This bar and restaurant is open for lunch, dinner and late night drinks. They host various events throughout the week such as karaoke, trivia nights, open mic, acoustic and DJ performances and even a monthly comedy night. The mismatched lounge chairs scattered around the place are bound to make you feel like one of the cast of Friends.
Sooki Lounge boasts two levels, with a bar on each floor. Sit upstairs by the stage or in the fairytale-esque room downstairs. Alternatively you can sit outside and enjoy the relaxing ambience of the beer garden. Whether your drink of choice is craft beer, wine, spirits or cocktails, Sooki Lounge has got it all!
1648 Burwood Highway Belgrave
Opening hours:
Wednesday-Friday 3:00pm - until late
Saturday-Sunday 12:00pm - until late
12. Olinda Tea House and Restaurant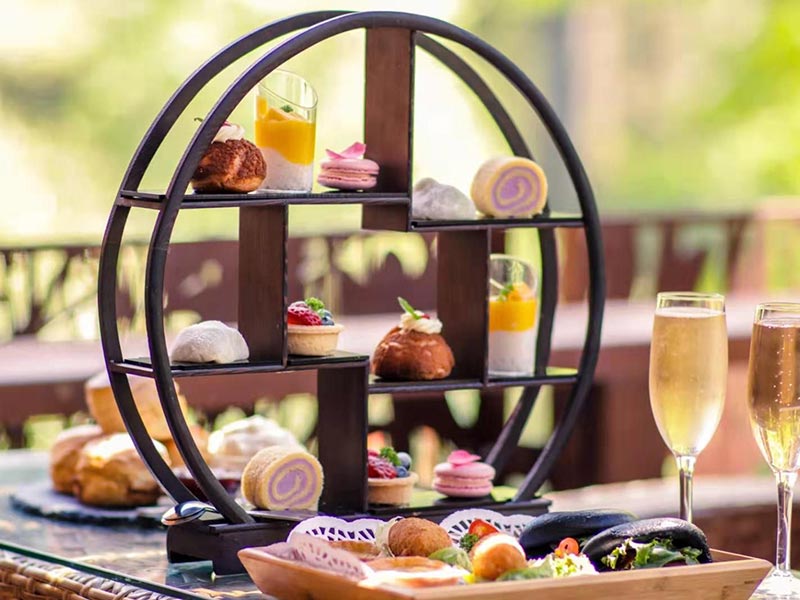 Photo by: Olinda Tea House
Whether you're heading to Olinda or simply passing through, schedule in some time to pop into the Olinda Tea House.
The tea house is located in an architecturally beautiful building, surrounded by stunning manicured gardens full of blooms. A perfect location for winding down and having a relaxing zen afternoon accompanied by their classic high tea package.
They also cater to weddings, events and birthdays and also offer vegan and gluten free options in their asian fusion menu.
With friendly staff, the Olinda Tea House team goes above and beyond to ensure their visitors have a great time. We recommend booking ahead of time for this popular spot.
86 Olinda-Monbulk Rd, Olinda
Opening hours:
Monday, Wednesday, Thursday: 11:00 - 21:00
Friday, Saturday, Sunday: 11:00 - 22:00
Frequently Asked Questions About Dandenong Ranges
How long should you spend in the Dandenong Ranges
If you're looking for an adventurous day trip away from the hustle and bustle of city life, then a visit to the Dandenong Ranges is a great option. The Dandenong Range is between one to two hours drive from Melbourne (depending on where you're staying) which makes it a viable day trip option.
One day in the Dandenong Ranges will give you enough time for some sightseeing and perhaps even some short walks or bike rides in nearby national parks like Olinda State Park or Sherbrooke Forest. During that time you could even go on one of Australia's most spectacular scenic rail journeys with Puffing Billy Steam Railway or experience the thrill of high-rise tree top walks at Treetop Adventure Park.
However there's definitely enough activities to keep you occupied for a few days if you wish to experience more of what the Dandenong Ranges have to offer.
We highly recommend spending 2 – 3 days to fully immerse yourself among peaceful forests, visit the local galleries, visit a few wineries in the area and treat yourself to the local eateries dotted around the area!
Is the Dandenong Ranges free to visit?
Yes, the Dandenong Ranges are free to visit! It comprises multiple suburbs as a part of the Greater Melbourne metropolitan area. Many hikes, lookouts and scenic drives are all free to visit and don't cost anything apart from perhaps car hire or fuel if you're driving. The ranges do include several popular tourist destinations that do come at a fee, such as the Puffing Billy steam train, SkyHigh mountaintop observation deck, and the Tree Top Adventures.
Is Dandenong Ranges family friendly?
The Dandenong Ranges are an incredibly family-friendly destination and provide lots of activities that both children and adults can enjoy. The Ranges are full of lush green forests, fern gullies, and stunning wildlife with walks to accommodate young & old ones to more experienced hikers.
Kids will have endless fun activities such as the Puffing Billy train ride, Tree top adventures, berry picking, wandering a hedge maze and much more!
If you are looking for an exciting and unique weekend adventure away from Melbourne, then a trip to the Dandenong Ranges could be just what you need.
This region of Victoria is full of nature trails, stunning vistas, and delicious eateries that provide a wealth of activities that will keep the family entertained.
From indulging in high tea at iconic spots like Miss Marple's to exploring nature at famous local walks like the 1000 Steps, there are plenty of options for all to explore in this quaint part of Australia.
Take the time out from everyday life and head over to the Dandenong Ranges for an adventure to remember.